SURE-TRAK2 DELIVERS real-time CONTROL of SHOT VELOCITY & PRESSURE
Run even the most challenging injection profiles with relentless repeat ability. Thin walled castings; complex shapes; alternate processes like semi-solid, squeeze or high vacuum casting structural components, Sure-Trak2 has it under control.
Sure-Trak2 offers closed loop control of your die csting machines shot. Available on new machines, as an upgrade (bolt-in manifold and valve replacements), or as part of a new shot end.
Sure-Trak2 controls velocity and pressure during the slow shot, fast shot, and intensification phases.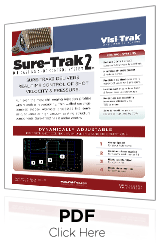 Control Systems
Reduce Costs & create consistent, high-quality castings.
Minimize air entrapment & reduce scrap.
Precision Control over every aspect of velocity & pressure.
Low impact means less flash & fewer production delays.
Relentless repeatability increases efficiency by 15% or more!
Save & recall recipes to reduce set-up time by 70%.
Along with specifying Sure-Trak controls onto a new machine Visi-Trak offers easy affordable upgrade options and new shot-end packages.
Sure-Trak2 Screen Shots & Features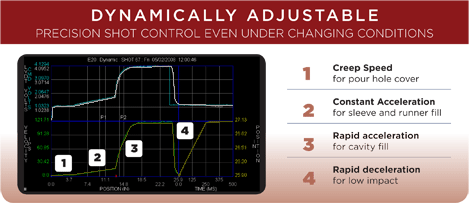 Process Monitoring & Control Webinar
Additional Resources