Extend MONITORING & CONTROL to include your entire die casting machine cell
Create and save recipes, monitor clamp tonnage, set core sequences, and set timers. Use diagnostic screens to quickly identify problems, and capture PLC (Programmable Logic Controller) related process information for analysis. Control core sequences, timer settings, die set points, ejector set points; create and store your entire recipe. Find out more about Total-Trak2 and our other products for advanced die casting process control.
Total-Trak2 is immediately available to replace all OEM supplied HMI's, including; ProManager, ProLINKS, HPM HMI, SEMU and others. Allen Bradley PLC 5 and newer processors are supported.
---
Process Control
Monitor & control, your entire automated machine cell.
Easy set-up – restore saved jobs in seconds.
Complete I/O Diagnostics for a comprehensive view.
Integrated control with the True-Trak20/20™ or Sure-Trak2™.
Ladder logic display options available.
Cost-effectively replace your obsolete systems.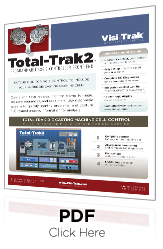 Sample Screenshots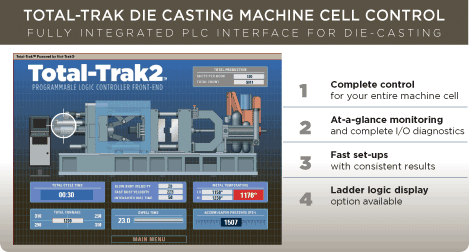 "We were relieved to find an economical replacement for our old ProManager's. That it was a Visi-Trak product, with their support, made it even better. The machine now has acceleration control capability, which it did not have before, and the entire installation took just a couple of hours. We're planning to add it to all of our other machines, already equipped with Sure-Trak2 Controls
–
Brian Surch
Maintenance Manager
Port City Group, Muskegon, MI