The road to increasing efficiency and profits includes Availability.  
Hydraulic leaks.  Replacement of spare parts. Flashing. Loss of pressure. 
These are all unfortunate, but real factors that contribute to a die cast machine being down.  Sometimes a machine is down for hours, days, or even weeks! This can lead to a huge loss in profits! Time is money in the world of manufacturing.  The more time a die cast machine is available to produce, the more profits stand to be made.
Metaldyne in Twinsburg, OH is a prime example of a company that saw the benefits of implementing the technology and processes to ensure that their die cast machines would be available for production as much as possible.
To increase OEE, Metaldyne upgraded several of their machines to the Sure-Trak2™ Shot Control System, 80mm Olmsted SV Series Cartridge Valve piloted with a Woodward HRT R-DDV Servovalve®, a Conversion Manifold, Total-Trak2™ HMI, Visi-Trak® 20-Pitch Tail Rod and Transducer Assembly and an option for proportional control of intensification pressure.  Prior to the installation of these items, Metaldyne fell victim to the negative factors mentioned at the beginning of this post.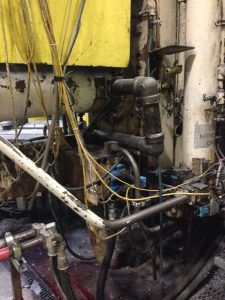 Flashing caused a significant amount of downtime, which led to die wear, maintenance, and thermal balance.  Oil leaks caused frequent downtime due to the need for part replacements and pressure loss.
After implementing the Sure-Trak2™ Shot Control System, Metaldyne experienced an increase in machine uptime, improved efficiency, a and less maintenance time spent on the machine.  This resulted in a 20% increase in machine utilization and an 8 month ROI.  
Take it from us, we've been in the die casting industry over 30 years and we have provided and supported many die casters in their goal of increasing machine efficiencies of 10, 20, or 30%.