Earlier this month, the NADCA Die Casting Congress West was held in Long Beach, CA.  Visi-Trak President, Tom Vann attended the show and manned the Visi-Trak table.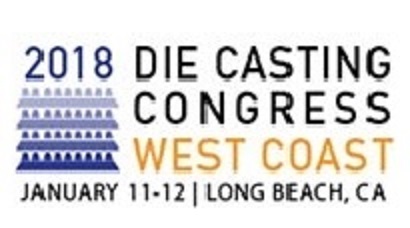 The event featured presentations relevant to the die casting industry.  Paul Brancaleon, the Director of Research, Education, and Technology for NADCA kicked off the event with a presentation on "NADCA's State of the Die Casting Industry".  Paul's presentation mentioned that die casting shipments were up 3.44% in 2017.  Paul noted that manufacturing activity is strong in the United States.  Since The Aluminum Association approved the F360 and F380 low iron and high manganese alloys that were developed by Ray Donahue of Mercury Marine, these new alloys will provide die casters with many new opportunities for castings for structural components.  In other words, the die cast industry is thriving!
A key speaker at the NADCA Die Casting Congress West was Beau Glim.  Beau's presentation focused on Advanced Technology.  A key point of Beau's presentation was that only 55% of companies store shot data, and only a small fraction of those 55% track parts through Traceability.  This reveals that the die casting industry still has a lot of work to do in order to implement best practices for process monitoring which should have as its goal a 0% scrap rate.  This high standard is achievable, but in order to do that it is necessary to optimize and control the die casting process as it is highly variable.
Beau spoke of a case study that was conducted in which a company had a 3-6% scrap rate.  They implemented Traceability along with Thermal Imaging.  The process parameter data was then exported and analyzed to find the causes behind the high scrap rate.  By using a process monitoring system to backup and archive the shot parameter data with the temperature data, they found that the hydraulic valve was sticking and that the intensifier bottle was leaking.  The Operator forgot to start the water for cooling.  The results from this kind of SPC analysis provide valuable data to determine which process parameters are directly related to scrap.  The die caster can then use this information to take countermeasures to adjust their process to get the parameters where they need to be and set high/low limits for the alarms in the monitoring systems to segregate the parts for scrap and warn the Operator that there are issues with the process or with the machine.
In sum, this goes with what we have been preaching all along, why detect defects when you can prevent them altogether?