The Backbone of Die Casting Sensing, Monitoring, and Control Just Got Better
Innovative transducer and sensor technology is at the core of what Visi-Trak does. The Visi-Trak® Sensor was first developed way back in the early 1970's, over 40 years ago, to meet the advancing performance needs of the die casting industry, and Visi-Trak has continued to evolve and advance its transducer technology through the years.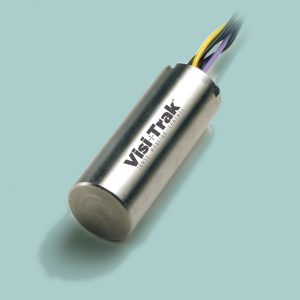 Visi-Trak delivers an industry-leading family of linear position & velocity transducers designed for reliable contactless monitoring in harsh environments. The new A49-VT line of Visi-Trak® Transducers provide calibration-free installation while superior gapping allows glitch-free operation even on poor mounting arrangements. Whether a new installation or a retrofit, Visi-Trak® transducers are engineered to perform and designed to last.
Reliable Sensor Performance in the Harshest Environments
The transducer is encased in a non-ferrous, stainless-steel housing and utilizes a magnetic field to detect movement of a threaded steel rod made smooth by chrome plating. These movements, indicating target speed and direction, are quadrature encoded and transferred over a two-wire interface where a decoder computes instantaneous speed and direction using the known target thread pitch.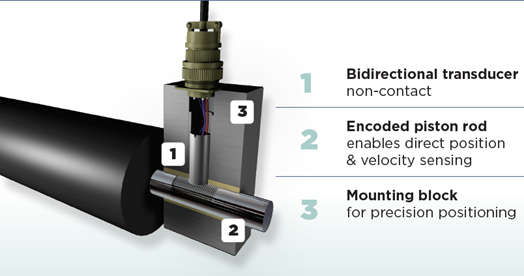 This information provides valuable feedback for a variety of monitor and real time adaptive control applications. Visi-Trak offers four transducer models designed to work with commonly available pitch widths. Users have experienced best performance when they have used Visi-Trak measurement rods and mounting hardware in conjunction with the Visi-Trak transducers.
The new A49-VT line of transducers require no calibration and have much higher gapping while having the ability to operate at any gapping from zero to .020" for the 20 pitch transducer and up to .035" for the 2mm pitch transducer.
We've used Visi-Trak's velocity sensor on every new shot end since 1987. Our shot cylinder is designed for precision alignment and long life. With Visi-Trak's sensor technology we sense directly from the cylinder rod providing the truest possible feedback— it's a great design.
 Ron Smidt
Vice President
Die Cast Press Mfg. Co.
The rugged and reliable Visi-Trak® transducer has been the standard for die casting for many years, and it just got better!
Designed for the unique challenges of the die casting industry, Visi-Trak's line of transducers and sensors form the foundation for our suite of monitoring and control products.
Our Die-Casting Sensors are Tough and Reliable
Design Simplicity for inherent reliability.
Extreme Accuracy up to 500IPS/12.7MPS utilizing position based sampling.
Non-contact sensor minimizes equipment wear.
No calibration or alignment means no set-up problems.
Proven Performance for over 35 years.
Easy to install & operate nearly maintenance free.
Technical Specifications
Resolution: .0125"/.5mm (20 pitch/2mm pitch)
Linear Speed: 500IPS/12.7MPS
Operating Temp: -40° to 185° F (-40° to 85° C)
Housing: .628" x 1.75"