Uniquely Identify, Track, and Store Manufacturing QC Data for Every Part you Produce
Visi-Trak's Part Traceability System  enables you to identify and track each of your components and end products in order that you can improve your quality control, customer assurance, and customer satisfaction, while maintaining compliance.
Traceability strengthens your relationship with your customers by bringing transparency to your production, supply, and distribution chains. This transparency increases your level of responsibility to your customers, which breeds your customers' confidence and assurance.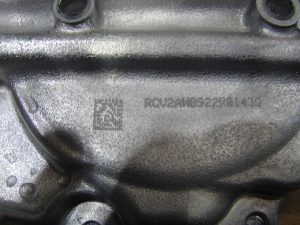 Traceability also brings efficiency to your operations by automating antiquated error prone manual processes, while at the same time connecting your data so that you can make better decisions, faster.
As part of a True-Trak 20/20™ Computer Monitoring System or Sure-Trak2™ Shot Control System our Part Traceability System uniquely identifies, tracks, and stores quality control data for every part you produce, while helping you maintain irrefutable proof you are shipping parts that meet or exceed your process requirements.
Our traceability system will completely automate your process of collecting QC PLC and process data while adding unique part ID scripting. It even allows you to add secondary machining data entry to capture a complete QC picture for you and your customers.
The part traceability that Visi-Trak offers allows you to:
• Automatically collect and archive valuable process data for each part.
• Uniquely identify each part you produce
• Capture and link important secondary machining data
• Analyze your data to inform your customers and improve quality
• Archive your information for future access – even PLC data – for every shot
• Leverage the value found in the data you generate
• Increase operational productivity
• Protect your brand and bottom line
• Mitigate risk while ensuring customer satisfaction
Our holistic Part Traceability System will allow you to advance your process and increase your profits, while ensuring your customers stay satisfied and loyal.