Porosity stops your operation and kills your margins!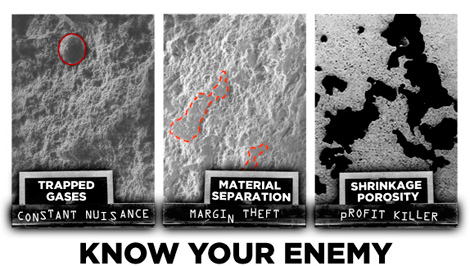 Whether it is caused by Trapped Gases, Material Separation, or Shrinkage, porosity is one of the most common defects in die-casting and one of the toughest control. A True-Trak 20/20 monitor or Sure-Trak2 Control from Visi-Trak can give you all the information and precision control you need to keep porosity from destroying your margins.
How do you keep margins strong?
Ship more parts… faster… with the minimum of waste. In other words less defects and more uptime.
Utilize statistical process analysis and control to Detect, Analyze, and Prevent margins killers like porosity.
Monitor
Understand the cause of part variation
Diagnose problems before they affect your bottom line
Document Machine Capabilities- put the right part on the right machine
Control
Rock Solid Repeatability means your machine will adhere to the most dynamic shot profiles
Minimize Porosity with precision control
Low impact, less flash